Favors Your Guests will ACTUALLY Appreciate and Use
The answer, truthfully, is no. They don't really want anything with your name on it. It might just end up in a kitchen drawer or the trash...Wedding favors should be something fun and easy to pick out! They should represent your thanks to family and friends who shared your special day by your side. Unfortunately, couples spend lots of money on things that people don't even realize are meant to be favors or something they don't even want. There are plenty of different ideas for favors that can stay true to you that your guests will also enjoy!
Little edible favors are always a big hit for any wedding! One of the more popular edible ideas is a candy buffet. Getting a variety of different candies in your wedding colors is a fun way to say, "I hope you had a sweet time celebrating with us!" This is a good idea for the adults AND children in attendance! Keeping in with the food idea we have also seen S'mores Kits, a Hot Chocolate Bar, and full candy bars!
Going Green is still a huge trend not only in everyday life but in weddings as well. Everyone loves beautiful flowers and giving a flower seed as a favor is something very unique. The most popular seed to give is for the "Forget Me Not" flower. Most couples want their guests to plant this and watch it grow with fond memories of their wedding day.
Sometimes a tangible favor just isn't going to work. You still want to show your guests that you are thankful for their participation in the biggest day of your life so what do you do then? This option is a little more expensive but it's all for a good cause. The newest trend in wedding favors is giving a donation to a charity of your choice in the name of your guests. This is a great way to show your guests that you appreciate them while still making a difference to a greater cause!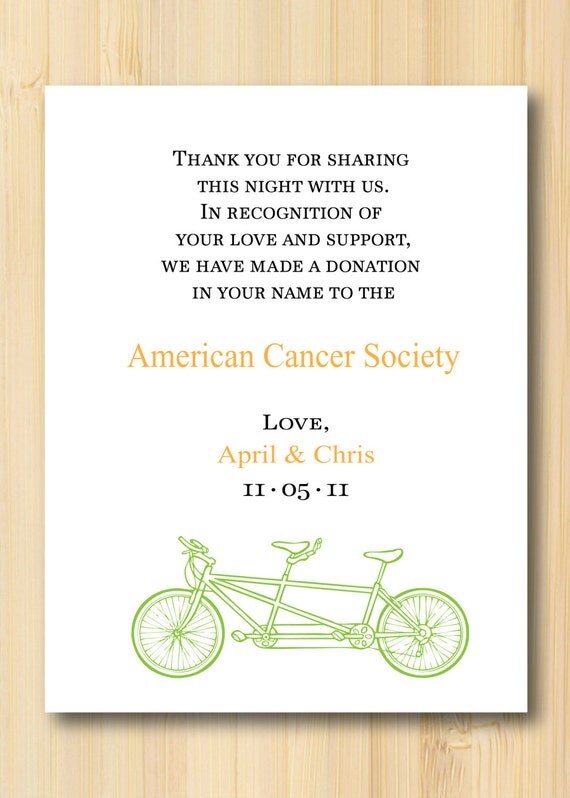 There are times at a reception and sometimes a ceremony where your favor could be something necessary for your guests to have. Some couples having outdoor weddings will give sunglasses as favors so that the guests will actually be able to see the ceremony without squinting or shading with their hands. Others have given flip flops out before the reception so everyone can take off those uncomfortable pumps and dance the night away.